First Freedom Action Network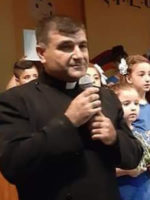 On Monday, November 11th, Father Hovsep Hanna Bedoyan and his father, Ibrahim Hanna Bedoyan, were traveling to Deir Ezzor in Northeast Syria when they were attacked and killed. ISIS has claimed responsibility for the attack.
They were going to Deir Ezzor to check on repair work at the Armenian-Catholic Church of the Martyrs. It is a significant city for Armenian Catholics in the region because it is where many were killed while fleeing the Turkish genocide in 1915.
Last month's Turkish invasion into Syria has emboldened Islamists and further destabilized the region. The church, as a monument to the martyrs of the Armenian genocide, is a thorn in the side of Turkey's Islamist government. Even mentioning the event in Turkey is considered "insulting Turkishness" and is illegal.
Father Bedoyan is survived by his wife, children, and community of believers. His Archbishop Butros Marayati of Aleppo said, "I beg you to pray for us and for our people, because at present we are living through extremely difficult times."
Subscribe to the Prayer List